Community Outreach & Project Research (COPR)
REACHING OUT TO REACH WITHIN:
BECOME A COMMUNITY PARTNER!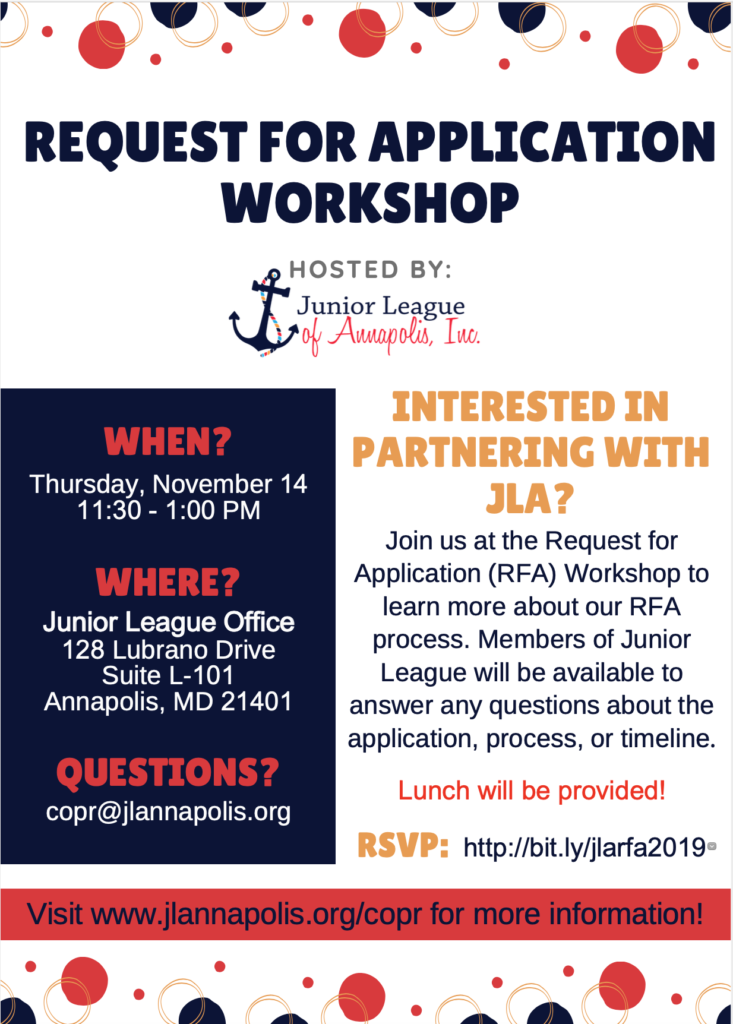 The Junior League of Annapolis, Inc. (JLA) is searching for its next three-year partnership with a non-profit organization, government agency, or other community organization that has or is in the process of developing a project/program that will meet our community's needs and align with JLA's mission, issue area, and focus area. JLA's current issue area is "Addressing Food Insecurity" with a specific focus on the Self-Sufficiency of Women and Children. As partners, JLA and the selected organization will strategically collaborate to develop, organize, provide trained volunteers, and use designated JLA funds of up to $5,000 annually to successfully implement and improve the project/program over a three-year period.
Organizations with projects/programs that serve Anne Arundel County and align with JLA's mission, issue area, and focus area are encouraged to submit an application. The Request for Applications (RFA) packet for the 2020-2023 partnership is now available – download the RFA packet now. Completed applications will be accepted through 11:59PM on January 10, 2020 by email (copr@jlannapolis.org) or mail (128 Lubrano Drive, Suite L-101, Annapolis, MD 21401). JLA will review all applications, with the selected project commencing on June 1, 2020.
JLA's Community Outreach and Project Research (COPR) Committee hosts a series of events throughout the year to engage potential partners, connect with like-minded organizations, and answer any questions.  JLA is hosting an RFA Workshop on Thursday, November 14, 2019 from 11:30-1:00pm at the Junior League Office (128 Lubrano Drive, Suite L-101, Annapolis, MD 21401).  Come learn more about our RFA process.  JLA members will be available to answer any questions about the application, process, or timeline.
A RFA Workshop will be held in November – more details will be provided soon.
---
 Junior League of Annapolis Current Projects
One of JLA's current projects is Community of Hope, a partnership with the Anne Arundel County Partnership for Children, Youth & Families. The Community of Hope project, which began in 2017, focuses on reducing the achievement gap for children and families in the Brooklyn Park community, an area of Anne Arundel County with the highest poverty level and least amount of resources. This project joins residents, government and nonprofit agencies, business leaders, and others to address an array of challenges to create community-level change. By working as members of the Community of Hope in Brooklyn Park Coalition, this JLA not only brainstorms and executes their own events but also supports initiatives of other coalition partners in order to make a larger impact in the community. Activities within the project include working with the North County High School community garden, Brooklyn Park Middle School initiatives, coordinating community events (baby showers, health and resource fairs, community clean-up, music
and arts presentations), and working with others in the coalition.
The other current JLA project is Coaching for Life, a partnership with the women of Serenity Sista's to help support women in the Anne Arundel County that are entering the life of sobriety and recovery from drug and alcohol abuse. The Coaching for Life project, which began in 2018, focuses on the self-sufficiency of women and children. JLA helps create workshops and events that help the women of Serenity Sista's with sustaining recovery efforts and obtain life skills that have been stripped from them during their time of drug and alcohol abuse. Such workshops have included, healthy eating, resume building, financial education and life after Serenity Sista's.
Other past JLA three-year partnerships include Seeds 4 Success, Read2Kids, Sarah's House, the Center of Help, Lighthouse Shelter, and Chrysalis House.
For further information on upcoming events, JLA partnership, or the application process, please email copr@jlannapolis.org and include your organization's name and contact information.