Community Involvement and Outreach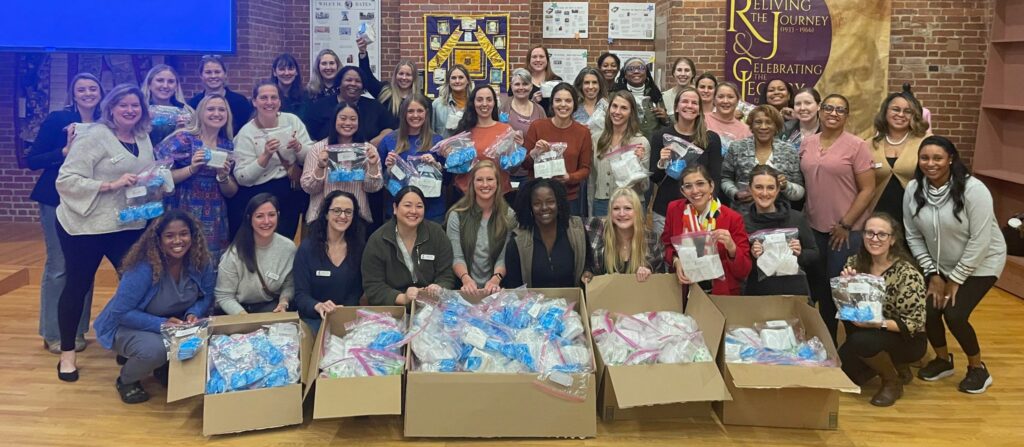 Pictured above: During the October 2023 General Membership Meeting, members packed hundreds of period supply kits for local women in Anne Arundel County.
Junior League of Annapolis, Inc. (JLA) participates in monthly Community Involvement and Outreach (CIO) projects as organized by the JLA's CIO Committee. The Committee reviews and plans short-term projects for nonprofit organizations throughout the community of Anne Arundel County. CIO projects are part of the JLA's ongoing commitment to make a difference in the community and must align to the JLA's Vision of increasing the self-sufficiency of women and children, specifically by narrowing the achievement gap.
To submit an idea for a CIO project, please complete the Request Form and email the form to cio@jlannapolis.org. Decisions are made on a rolling basis by the CIO Committee. If you have any questions, please e-mail cio@jlannapolis.org.
Past CIO Projects Include:
Backpacks of Love – partnered with Blue Ribbon Project to create emergency bags for foster care children
Lighthouse Bistro – partnered with Lighthouse Shelter to create permanent supportive housing by decorating and furnishing two apartments for Bistro employees who were formerly residents of the Lighthouse Shelter. To learn more visit Lighthouse Bistro.
Box of Rain – partnered with Box of Rain to bring Kids in the Kitchen to their Step It Up Kids fitness program. Learn more here.
Lighthouse Shelter – assisted with meal preparation quarterly (bagged lunch program)
Volunteer Center for Anne Arundel County – partnered with community organizations to implement recurring volunteer projects in the county
Girls on the Run – mentored, coached, and co-ran with girls participating in footraces around the county
Spanish Heritage Festival
Volunteer Blood Drive — hosted in partnership with Anne Arundel Medical Center to collect blood from donors to restock life-saving provisions that will provide to those in need
Habitat for Humanity — assisted with construction work on a house in Edgewater
Chrysalis House — helped staff re-create a recreation room for clients of Chrysalis House services using existing fitness equipment, painting and decorating
Albert Adams Academy — assisted with the make-over of a teacher's lounge at the school to provide a positive environment for the teachers to have some downtime before and after teaching in the classroom
Kids In the Kitchen — helped empower youth to make healthy lifestyle choices and reverse the growth of childhood obesity and its associated health issues
Projects at Eastport Elementary, Edgewater Elementary, and Hillsmere Elementary Schools