WRAP-UP: Seeds 4 Success is a Success!
Contributed by Michelle Hendley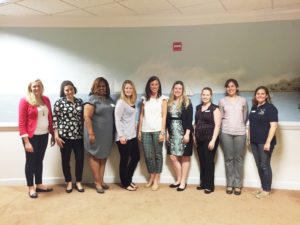 The Junior League of Annapolis (JLA), in partnership with with Seeds 4 Success, had an extremely successful pilot year assisting with the Alumnae and College Access (ACA) Program. This program was designed to provide select Eastport Girls Club members in the 10th through 12th grades with the academic, social and emotional tools needed to confidently continue their studies in a collegiate setting after finishing high school. The support that individuals need when making the decision to attend college or university cannot be overstated – not only do many need financial assistance, but they need community guidance in the process. The JLA aimed to provide support for the ACA through SAT tutoring, interview practice, academic support and emotional, as well as social, direction.
It's fair to say that the pilot year for the ACA Program was a resounding success! The group met on Mondays afternoons, with five girls being selected for the program, and all five completing the entirety of it. The JLA provided assistance for six after-school sessions with the ACA girls during which they participated in activities with a number of guest speakers covering topics such as collegiate experiences, networking and social media skills, time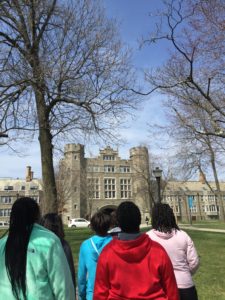 management and study skills, SAT Prep, and interview preparation. Seeds 4 Success also hosted several opportunities encouraging families to get involved, such as college visits, family dinners and holiday parties. The parents even got involved in the fun, winning gift cards with the Parent Challenge! The ACA later introduced a Thursday Study Hall session, giving the girls further opportunities to receive one-on-one instruction in areas of need. To round up the year, the first ACA Career Day was held in May. This introduced the girls to the myriad of opportunities that will be available to them in the future. This summer two of the girls are receiving additional SAT tutoring from the JLA, and one additional took the ACT (American College Test) exam this past spring. Three of the five girls from the 2015-2016 group have been inducted in the National Honor Society, and all of them feel as though the program boosted their confidence – the "confidence quiz" results jumped from an initial 4.2 out of 5 in the fall to a 4.7 out of 5 when the year concluded!
The JLA is so excited to continue this partnership for the 2016-2017 school year. The program is expanding to include 9th graders, and three new girls will be joining the ACA in the fall. The JLA looks forward to continuing to provide insight and assistance in giving these girls a step up as they move on to the next phases in their lives. Developing the potential of these young women is part of the core JLA philosophy, and helping them discover tools to succeed is an important step in achieving that goal.