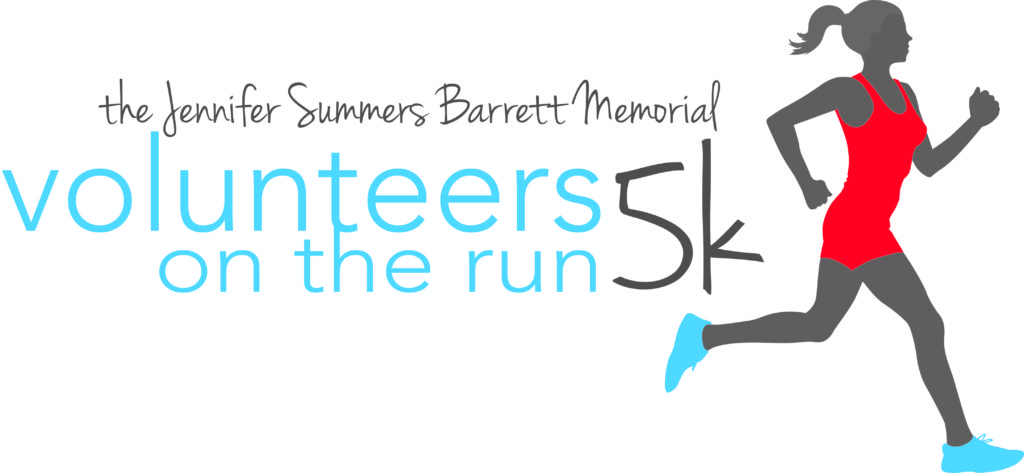 Jennifer Summers Barrett Memorial
11th Annual Volunteers on the Run 5k
at Quiet Waters Park in Annapolis, MD
Saturday, April 28, 2018 9:00am
---
ABOUT THE JENNIFER SUMMERS BARRETT MEMORIAL VOLUNTEERS ON THE RUN 5K
The run is named in honor of JLA member Jennifer Summers Barrett who passed away tragically on July 27, 2011. Barrett epitomized a strong, dedicated Junior League woman who cared deeply about our community and especially our children.
---
RACE DAY INFORMATION
Sign-in: 7:45 am
Family Fun 1K Run: 8:45 am
5K Race starts: 9 am
Parking: Quiet Waters Park
REGISTRATION INFORMATION
Online Registration closes midnight April 27, 2018
In-person Registration on race day closes at 8:45am
Packet Pick-up: Thursday April 26 and Friday April 27 at Charm City Run Annapolis located at 1910 Towne Centre Blvd #120 Annapolis, MD 21401 5-8pm
Registration Options
Price
Package
General Walker/Runner
Age 13 and up
$35
Race Bib
Race Medal
VIP Walker/Runner
Age 13 and up
$50
Race Bib
Race Medal
Race T-shirt
Swag Bag ($150 value)
Phantom Runner
Any age
donation
of any kind
VIP Phantom Runner
Any age
$50
Race Bib
Race Medal
Race T-shirt
Swag Bag ($150 value)
Child Walker/Runner
Age 12 and under
$12
Race Bib
Race Medal
Family Fun Walk/Run
Adult
$20
Race Bib
Family Fun Walk/Run
Child
$10
Race Bib
T-shirt Only
$15
 Purchase!
---
Post-Run Fun!
Following the run join us to continue the fun at
Annapolis Smokehouse & Tavern
107 Hillsmere Dr, Annapolis, MD 21403
Take advantage of drink specials just for the event from 10:30-12 Noon
In addition, 10% of all sales will go to the Junior League of Annapolis.
---
Results