This Giving Tuesday Help Raise Funds for JLA Community Projects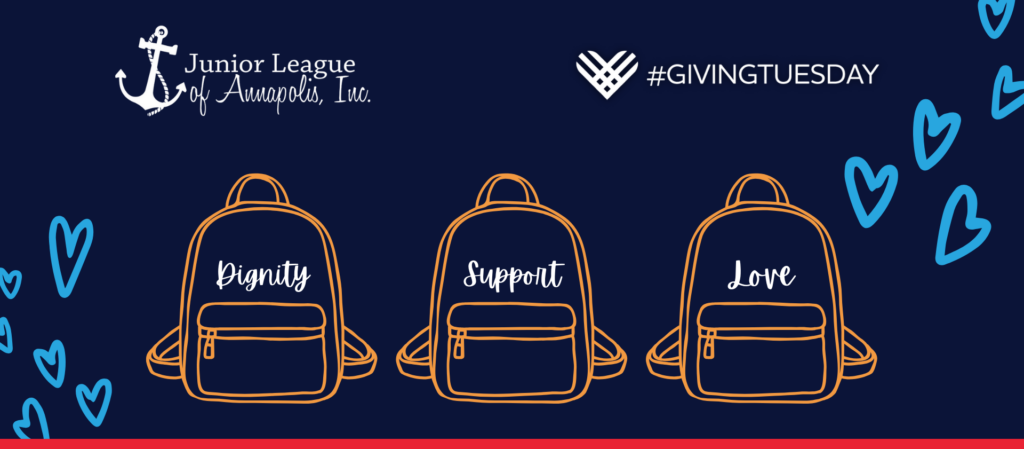 This Giving Tuesday (November 28th), Junior League of Annapolis (JLA) members will rally to raise funds to support the work of the Community Involvement Committee by donating to help purchase supplies for our 2023-24 projects. One of the first projects using these funds is for the Blue Ribbon Project's "Backpacks of Love" to help local foster kids. Each backpack costs around $40 to put together, and contains essential necessities for kids entering the foster care system. 
Our goal is to raise funds to purchase supplies for 100 backpacks, which we will put together in a future meeting and then donate to the Blue Ribbon Project. Together, we can make a big difference in these kids' lives.
The Blue Ribbon Project is one of many organizations that JLA supports throughout Anne Arundel County, all with the aim of increasing self-sufficiency in women and children. The organization is based in Crownsville, Maryland and it's mission  is to prevent all forms of child abuse and provide critical support to victims of abuse and neglect. While they are based in Anne Arundel County, they reach an additional 11 counties throughout Maryland, and are looking to expand. 
The Backpacks of Love program supports victims of child abuse and neglect the moment they are being removed from a dangerous environment. Oftentimes, the child lacks essentials such as a toothbrush/toothpaste, a change of clothes, etc. The moment a child is removed, The Blue Ribbon Project is notified by the Department of Social Services, the Police, or the foster parent receiving the child. A backpack containing those essentials is delivered directly to the child. This gets them through the first few days of care.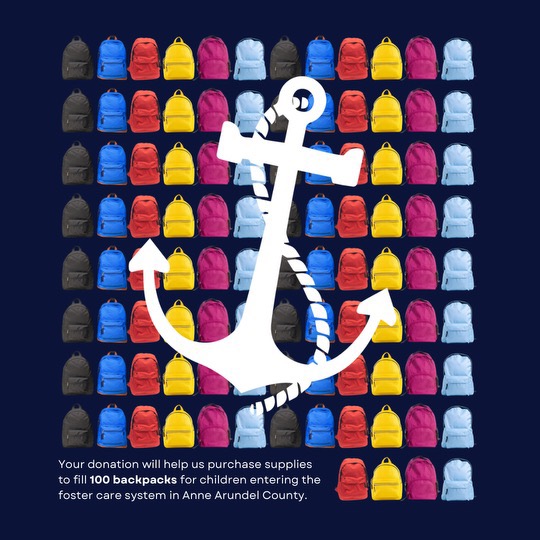 In Anne Arundel County 120 kids are in foster care in Anne Arundel County at any given time, and about 60 new children enter into foster care in the County each year alone. However there are far fewer foster or adoptive parents available to care for these children.
If you would like to support JLA's efforts this Giving Tuesday to purchase supplies for the Backpacks of Love program of the Blue Ribbon Project, please make a donation at www.jlannapolis.org/donate and write in the comments section "Giving Tuesday" or donate through our Facebook fundraiser (you also have an option to create your own fundraiser).
If you would like to learn more about the Blue Ribbon Project, please visit https://blueribbonproject.org.
###
About the Junior League of Annapolis: 
The Junior League of Annapolis, Inc. is an organization of women committed to promoting voluntarism,developing the potential of women, and improving the community through the effective action and leadership of trained volunteers. It reaches out to all women of any race, religion, or national origin who demonstrate an interest in and a commitment to voluntarism. https://www.jlannapolis.org
Would you like to subscribe to our blog?
Each Monday there is a new blog post, you will receive an email in your inbox. Sign-up here: http://eepurl.com/bMpulD