Contributed by CarrieAnn Frese
Last month, my husband and I participated in Wreath Laying at Arlington National Cemetery, hosted by Wreaths Across America.
Every December, during the National Wreaths Across America Remembrance Ceremony, thousands of people of all ages come together to remember and honor those who sacrificed everything, by laying a wreath at each gravestone of the cemetery.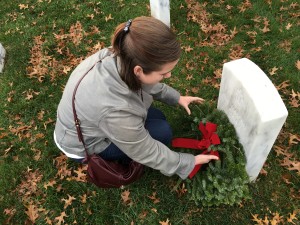 The day wasn't just about putting a wreath at every grave–it was about remembering, honoring and learning about each brave man and woman who served our country.
To be killed in war is not the worst that can happen. To be lost is not the worst that can happen… to be forgotten is the worst." -Pierre Claeyssens (1909-2003)
Every stone has a story.
We were honored to present wreaths to several headstones. For each one, we took the time to reflect on each individual–reading the name, the conflicts served, and the awards earned.
Army, Navy, Air Force, Marine Corp and Coast Guard–they are all represented.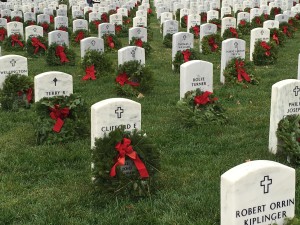 The ceremony was an incredibly humbling experience and a memory I will never forget. Wreath Laying at Arlington National Cemetery is an annual event in December, with wreath cleanup taking place in January. For more information, click here.