Professional Development for Women: JLA Members attend the AJLI ODI in Washington, D.C.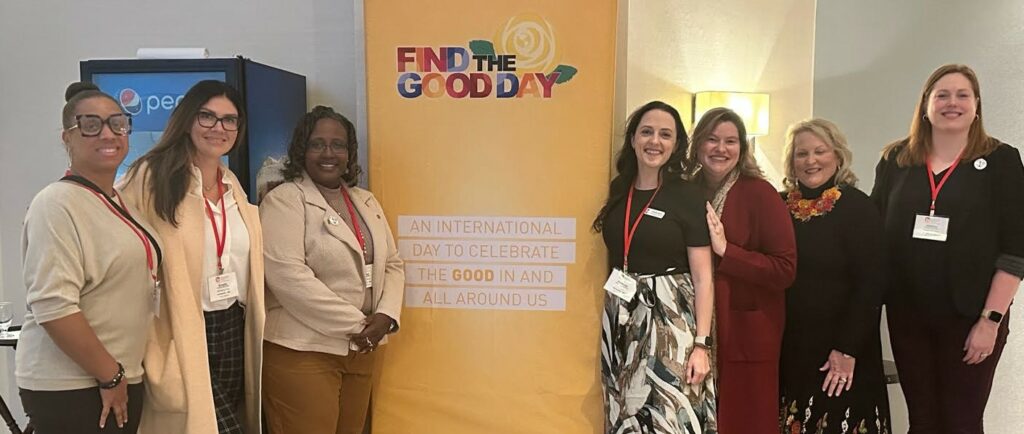 One of the greatest perks of being a member of the Junior League of Annapolis is the professional development for women and the opportunities that come with it. Due to the pandemic, the Association of Junior Leagues International, Inc. (AJLI) hosted its first Organizational Development Institute (ODI) workshop in three years in Washington, D.C.. Seven of our Junior League of Annapolis members and league members from all over the country were fortunate enough to attend.
What is ODI?
ODI's are AJLI leadership development workshops that provide Junior League members with mission-based training in key areas critical to the functioning of the League, and the knowledge can also be applied to each member's prospective careers outside of the League.
The three-day ODI workshop included some of the following topics:
Crucial conversations:

Members were given tools to navigate various difficult conversations that will enable them to be better communicators and resolve conflict in their personal, professional, or lives. Our Junior League members left feeling more confident in facing difficult conversations head-on instead of avoiding the issue and potentially making the situation worse.

Marketing:

Several marketing workshops covered brand awareness, engagement, social media best practices, and how to grow your website and social media followers. This training focused on how crucial marketing is for the Junior League and how these tips can be applied to professional and personal marketing initiatives.

DEIB:

This workshop covered communication with diverse groups of people and having a basic understanding of Diversity, Equity, Inclusion, and Belonging.

Recruitment:

This workshop discussed ways to recruit for your League. Many strategies discussed can also be applied to recruitment for any non-profit or workplace recruiting capacity.

Public Speaking:

Public speaking can be intimidating for many, but those who attended this workshop left with knowledge on how to draft the perfect speech, ways to get over nervousness, presentation, and what to avoid when speaking to an audience.

Advocacy:

The Junior League has a long history of successful advocacy. Leaders from different leagues shared their stories and ideas of finding a need in your community and using Junior League resources to fulfill that need.

Member Engagement:

This workshop discussed strategies for keeping members engaged in the Junior League and different ways to appeal to different types of members, including provisionals, actives, and sustainers.
Professional Development for Women
JLA President Michele Myers and JLA members Kristin Boulette, Marnie Miller, Aisha Hilliard, Jessica Cicoria, Amanda Cokinos, and Crystal Staples all left ODI with a wealth of knowledge to bring back to the Junior League of Annapolis and to their personal and professional lives.
Our Junior League of Annapolis President, Michele Myers, hosted a workshop titled "The Ties that Bind: Identifying and Building Friendships to Create Deeper Member Engagement." This workshop was in such high demand that many attendees pulled up chairs in the hallway to listen in and participate while the room was packed. Michele gave an excellent presentation that included an interactive activity. Many members from other leagues reached out to Michele after her presentation to see how they could bring this activity back to their leagues.
The JLA Marketing Chair, Kristin Boulette, said that her favorite part of ODI was attending some marketing workshops. Kristin currently works in Digital Marketing full time, so she was happy to share some of her knowledge with others in the workshop while at the same time picking up new marketing and brand strategies that she can apply at JLA and work.
Jess Cicoria, our Member-at-Large Chair, said that her favorite part of ODI was having a "small world moment" by bumping into an old friend she worked with at a summer camp in New Jersey many years ago. Her friend is now serving on the Junior League of Washington, D.C. Board, and they had a great time catching up at the conference.
Professional Development Opportunities in Annapolis
Not only do JLA members have yearly training opportunities through AJLI ODI workshops, but they also have several professional development opportunities in Annapolis throughout the year. All these training and networking opportunities are included in the yearly JLA membership.
Interested in learning more about the Junior League of Annapolis? Learn more: https://www.jlannapolis.org/about/join/
Would you like to subscribe to our blog?
Each Monday there is a new blog post, you will receive an email in your inbox. Sign-up here: http://eepurl.com/bMpulD