Start a Facebook fundraiser for the Junior League of Annapolis on your birthday or favorite holiday!
Step 1
From a Desktop go to facebook.com/fundraisers/, Click the blue Select Nonprofit button.

Step 2
Search and select Junior League of Annapolis when asked to Choose a Nonprofit?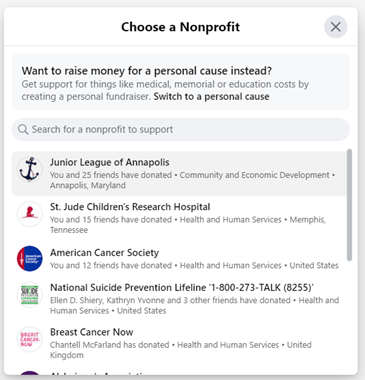 Step 3
Customize your fundraiser. Facebook will autogenerate answers for each question below, you are perfectly welcome to leave each field as is or customize some or all of it.
Note: The more personalized you can make your fundraiser the best it usually performs. Your friends and family will want to know why this cause is important to you.
How much do you want to raise?
When should your fundraiser end?
What's the title of your fundraiser?
Why are you raising money?
Cover Photo?

Step 4
Click Create, and your fundraiser will be live to the public.