Halloween Safety Tips From the Junior League of Annapolis
Contributed by Hallie Salmi
Halloween can be fun for kids of all ages, even grown-ups! Whether you're taking out the little goblins, have older ghouls out on their own, or passing out treats to all the witches and wizards, we have some tips to keep your evening trick free!
Pumpkins:
Small children should never carve pumpkins. Have your child draw a face with markers and let the adult do the carving.
While carving, keep the kids at a safe distance so they don't get in the way of sharp objects or distract you.
Use paint as an alternative!
Never let kids use a knife to scoop out the pumpkin guts. Have them use their hands or an ice cream scoop.
Clean up any spills. Pumpkin flesh is slippery and can lead to slips and falls.
Candles are a fire hazard. Use a flameless candle or a glow stick as an alternative.
If you must use candles, a votive is best. Never leave them unattended. Make sure they are on sturdy table and away from curtains and other flammable objects.
Dressing Up:
Make sure that costumes fit appropriately. They should not be a no longer than ankle length.
Make sure shoes fit appropriately and are easy for your child to walk in.
Swords, canes, and sticks should be flexible and not sharp or too long.
Masks can obstruct vision and make it harder to breathe. Use make-up and non-toxic face paint.
Make sure wigs, hats, and beards don't cover your kids' eyes, nose or mouth.
Use light colors and reflective tape on costumes when possible.
Make sure all costumes and accessories are labeled "flame-retardant." If making your own costume, use nylon or polyester.
Put a name tag with your address and phone number inside your child's costume.
Safety Starts At Home:
Make sure your yard and pathways are clear of any debris, wet leaves, garden hoses, toys and bikes.
Make sure lawn decorations are visible in the dark.
Make sure all outdoor light fixtures are working.
Restrain pets so that they don't inadvertently jump on or bite trick-or-treaters or get outside when they aren't supposed to be!
Have options: offer non-food options (e.g., stickers, erasers or small toys) for children with food allergies.
Out On Trick-or-Treat Trail:
Be Aware: The most popular trick-or-treating hours are 5:30 p.m. to 9:30 p.m. Children under 12 should not be out at night without adult supervision.
All children and escorts should have flashlights with fresh batteries or glow sticks.
Carry a cell phone. Make sure even younger children know how to dial 911. Note: all cellphones whether they have a service plan or not will call 911.
Remain on sidewalks and use well-lit streets. Use crosswalks. DO NOT assume the right of way. Do not cut across yards or alleys.
Stay in a group and communicate the route. Stay in neighborhoods you know.
Only go to homes with a porch light on. Never enter a home, shed or vehicle looking for treats.
Communicate any food allergies with home owners. A teal pumpkin on the doorstep means they have non-food options.
Make sure older children going out alone have a preset route and a curfew.
Law enforcement should be notified of any suspicious or unlawful activity. If you see something, say something.
Managing Your Goodies:
A meal prior to trick-or-treating will discourage filling up on treats.
Nothing should be consumed until it can be sorted and checked by an adult. While tampering is rare, look for unwrapped, open, spoiled or suspicious items.
Use non-food items as a trade off.
Know how much candy your children have. Store it somewhere other than the bedroom. Consider being more lenient (within reason) on Halloween, but devise and communicate a plan on how the rest of the treats will be handled. Let kids have 1-2 treats per day. Consider giving some of the treats away.
 Junior League of Annapolis wishes everyone a safe, healthy and spook-tacular Halloween!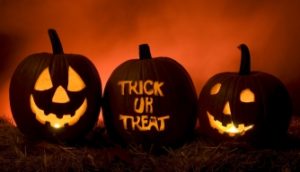 (Photo Credit: History.com)