#GivingTuesday – Impact and History
Contributed by CarrieAnn Frese
Thank you to those who gave so generously to Junior League of Annapolis during the annual #GivingTuesday. We received $2,370 in donations! Check out the below for history on #GivingTuesday and what other community projects JLA is currently working on.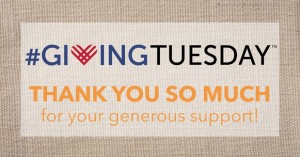 Background on #GivingTuesday
 #GivingTuesday is a global day dedicated to giving back. On Tuesday, December 1 2015, charities, families, businesses, community centers, and students around the world came together for one common purpose: to celebrate generosity, to give, and to bring about real change in their communities. This was an opportunity to be a part of a global celebration of a new tradition of generosity that is fueled by the power of social media and collaboration.
It provides a platform for nonprofits, civic organizations, businesses, corporations as well as families and individuals to encourage the donation of time, resources and talents to address local challenges. As a global movement, #GivingTuesday unites countries around the world by sharing our capacity to care for and empower one another.
Now in its fourth year, #GivingTuesday is observed on the Tuesday following Thanksgiving (in the US) and the widely recognized shopping events Black Friday and Cyber Monday. #GivingTuesday encourages and amplifies small acts of kindness and kicks off the charitable season, when many focus on holiday and end-of-year giving.
#GivingTuesday was founded in 2012 by New York's 92nd Street Y, a cultural center in New York City that, since 1874, has been bringing people together around the values of service and giving back in partnership with the United Nations Foundation. Together, with a team of influencers and founding partners, they launched a global movement that has engaged over 30,000 organizations to include small businesses, nonprofits, government agencies and major corporations worldwide in over 68 countries. Since its inception, there's been an estimated 470% increase in online donations on the Tuesday after Thanksgiving.
For additional details, see their website, givingtuesday.org/.
JLA's 2015 – 2016 Community Projects
Every year, JLA partners with two strong community organizations or government entities that have, or would like to develop, a new project that can be developed in conjunction with, and supported by JLA. The project must meet local community needs and should align with the JLA focus area of "Self-Sufficiency of Women and Children." This year's projects include the following:
Read 2 Kids: Read 2 Kids is a three-year JLA program partnering on multiple projects with Anne Arundel County Schools. The Read 2 Kids's mission is to provide disadvantaged children with new books and to see every single one of them read, learn and succeed. Read 2 Kids makes new, high-quality books available to schools and programs serving children from low-income families.
Seeds 4 Success: The three-year partnership between Seeds 4 Success (S4S) and JLA currently has four programs: Eastport Girls Club, I Am a Reader, Parent Challenge, and The Alumnae and College Access Program, which will help prepare and empower 10th-12th grade Eastport Girls Club graduates to attend and successfully complete college.
Done In a Day (DIAD): These one-time special projects are completed in a short period of time and meet a specific community need in Anne Arundel County that is in sync with JLA's mission and community programs. JLA welcomes local community organizations to learn more and view the DIAD project application to submit a project idea anytime of the year! Applications are reviewed by the JLA Community Outreach and Project Research (COPR) committee, and organizations are notified if they have been selected. Please contact copr@jlannapolis.org with any questions!