From our 2015-2016 President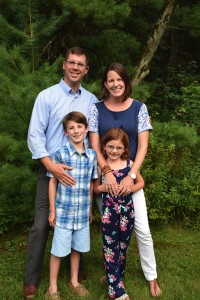 Hello and welcome to another great year in Junior League of Annapolis, Inc (JLA)! My name is Craig Friedrich, and I am honored to be the President of JLA for the 2015-2016 League year. This is my 10th year in the League. I joined JLA to meet new people and get involved in our community, and it has provided me with ample opportunities to do that. What I did not anticipate was how much the League would help me grow as a leader. Early on, I had no interest at all in assuming a leadership role, and if you told me I would be President even 2 years ago, I would have balked. But over the years, I have gained confidence in my ability to lead, feeling empowered by my trainings, my friends and the JLA leaders. The more female leaders I have worked with on committees, councils and the Board, the more I learned about what kind of leader I could be or wanted to be, and the more leadership roles I held, the more passionate I became about the league, what it has meant to me and fellow members past and present and what it can be in the future!
This is a really exciting time to be a member of Junior League of Annapolis, as we honor our past but make changes to sustain us for the future. We maintain our tried and true three-prong mission to promote voluntarism, develop the potential of women and improve the community of Anne Arundel County through effective action and leadership of trained volunteers. In order to support our mission, we have a brand new governance model that will allow our Board of Directors to focus on where we want JLA to be 5 years from now while our Management team oversees and supports our Councils and committee work. We have two new Community Impact projects, working with Seeds4Success, Inc and FirstBook, that will Narrow the Achievement Gap and improve Self-Sufficiency of Women and Children in Anne Arundel County. Our Financial Resources and Communications Councils are also rethinking their approach to make our events and media focus more impactful and current.
On top of all of this, we are focusing on enhancing the member experience. When Junior Leagues were started 110 years ago, the member was a very different woman than she is today. Mary Harriman and her friends were socialites with a lot of time on their hands. The majority of our members have either full or part-time jobs on top of busy home lives. We need to make sure the time spent with the League is worthwhile. Early on, women joined the League fresh out of college and the League provided them with training that they had never had before. Now, women are already coming in with a huge amount of experience and professional understanding. We need to tap into that experience and allow our members, whether they are a 1st year active or a sustainer, to share their insight and their voice in the decisions that we are making. In the old days, League members were forced into retirement at age 40. In Annapolis, women are joining active membership in their 40s or later, and we are so lucky that they are.
This is NOT your grandmother's League! We have a much more diverse membership of women of all ages, backgrounds, strengths and experience, and although we have made great changes over the years to try and add more flexibility to the membership, there are still parts of that 110 year old model that we are still hanging onto. Now is the time to forget about "how it has always been done", and start getting creative about what it could be. This is a membership League and hopefully as a collective, with more voices involved in the discussion, we will be able to build a membership model that will help sustain the League for all of us as well as those who come after us.
Our September General Membership Meeting was a great example of what our members can expect this year. 85 members arrived to a newly configured community room. Members sat in horseshoe-shaped seating to maximize the opportunity for discussion. Multiple presenters involved interactive components to their talks, allowing collaboration amongst the members, and the highlight was our incredible speaker, JLA sustainer and past Association of Junior Leagues International (AJLI) board member and trainer Joann Vaughn. The topic was Leadership, and Joann, using a beloved hobby of hers, gardening, shared with our members the differing growth patterns and needs of the floral varietals in her garden, relating them to the different leadership styles and personalities that might be represented within our league. Some flowers might prefer the shade while others need a lot of sun. Some are subdued in the blossom and others are showy. Some don't need a lot of attention while others are very needy. No matter what, each of them can be powerful in their own way, and that is what you will find in Junior League of Annapolis!