Jaime Thompson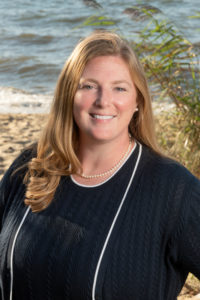 Jaime Thompson serves as Treasurer for the Junior League of Annapolis. She joined the League in 2017, and has since served as the Chair of the Gala Committee (twice) and Co-Chair of the Done in a Day Committee. Jaime received the President's Award (also known as the "Just Do It!" award) in 2019 for her outstanding level of volunteer service demonstrated throughout the year.
In her professional life, Jaime is the founder and CFO at Nicholynn Advisors, a full service accounting firm. She holds a Bachelors degree in Management with a Specialization in Accounting from University of Maryland Global Campus and is a CPA Candidate.
Jaime is a native Marylander who grew up in St. Mary's County, moved to Anne Arundel, and now resides in Queen Anne's. She enjoys being on the water, traveling with her family, and spending time with friends. Jaime lives in Chester with her partner, Adam, daughter, Felicity, and Dachshund, Coco.