Yvette L. Gray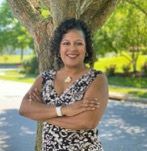 Yvette L. Gray has been an active member of the league since 2014.   Yvette joined the Junior League of Annapolis after attending a Membership Open House.  It was that visit where she realized that the League was no longer "my mother's Junior League".  One of Yvette's mottos is "we make a living by what we get—we make a life by what we give" and she gives much more than she gets.  As a member of Junior League, Yvette has become a true ambassador for the organization, actively recruiting others to come see what the league is about and join in on serving the local community.  While she is not seeking any reward for these efforts, her feeling is that the best reward comes from helping others realize that they too, can make a difference for someone.  Yvette is a registered parliamentarian and has also served on several league committees to include Gala, Financial Strategies, and Nominating.
In addition, Yvette is also a member of several community and professional groups to include:  the Anne Arundel County Human Relations Commission, the National Association for the Advancement of Colored People (NAACP) and Alpha Kappa Alpha Sorority, Incorporated.  For her unwavering dedication to serving and helping others, Yvette has received numerous awards and recognitions.  They include being named as one of Maryland Governor's 2007 Outstanding Volunteers; a recipient of the Community Trustee Award from Leadership Anne Arundel in 2007; a 2006 recipient of the Abe Pollin Community Service Award; a recipient of the 2006 Service to Youth Award by the YMCA-A Tribute to Women of Color organization, was recognized as one of Anne Arundel County's Outstanding Volunteers for 2006 and Sisters Enhancing Sisters Phenomenal Woman Award in 2016.  Professionally, Yvette is a Human Resources Director with the Department of Commerce and is a certified HR professional holding both the SPHR, sHRBP and SHRM-SCP designations.
Yvette loves being a member of JLA and says that she is excited to serve as the Membership Director and help promote a future where JLA continues to embrace and support women from all walks of life and socioeconomic levels who are looking to develop their skills while providing service to the community at large.  That a tall order for the league but Yvette says "#WeGotThis"!
Yvette enjoys baking, reading and listening to music. (she has more than 10,000 songs downloaded on her music player) and watching movies (her favorites are The Bodyguard and Love & Basketball).  She is married to Dr. Jeffery L. Gray, a retired US Marine, who is the Founder and Senior Pastor of Agape Deliverance Ministries.  As First Lady of Agape Deliverance Ministries, Yvette assists her husband with a variety of duties to ensure that his God-given mandate is carried out.  Together they form a dynamic and anointed team.  They currently reside in Millersville, Maryland. She invites you to follow her on Facebook and Instagram at @ivypearl729 and come check out the league for yourself.