Diversity & Inclusion Officer
Aisha Hilliard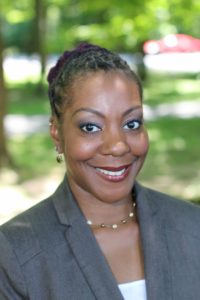 Aisha Hilliard recently moved to Anne Arundel County from Prince George's County. She joined Junior League of Annapolis (JLA) to meet like-minded women in her new community and serve the residents where she resides. Aisha is dedicated to leadership and has a strong desire and commitment to service which is evidenced by her dedicated service to JLA and other community service organizations. During her first active year with JLA, Aisha served as the At-Large Director. She is excited to continue serving JLA in her new capacity as Diversity and Inclusion Officer.
Professionally, Aisha is a practicing attorney where she has dedicated her career to public service. Aisha holds a Master of Arts in Ministry, Leadership Studies from Lancaster Bible College, Capital Bible Seminary, a Juris Doctorate from University of Baltimore School of Law, and a Bachelor of Arts Degree from College of Notre Dame of Maryland (now Notre Dame of Maryland University).
Outside of volunteering and service, Aisha loves to travel and run. She often combines the two and takes "runcations." One of her running goals is to complete a ½ marathon in all 50 states.