Diversity & Inclusion Officer
Sarah Amyot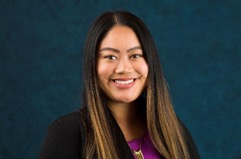 Sarah Amyot is the incoming Diversity and Inclusion (D&I) Officer for the Junior League of Annapolis (JLA).  Sarah has served previously as the Community Outreach and Project Research Chair (2019-2020), leading efforts to expand JLA's outreach in the Anne Arundel County community surrounding food insecurity.  In 2018-2019, she served as the Community of Hope Chair, partnering with the Anne Arundel County Partnership for Children, Youth, and Families to establish a Community of Hope coalition, promoting healthy and successful families in Brooklyn Park.  Sarah was also the recipient of the Provisional President's Award in 2017 for leading a provisional project at The Light House Homeless Prevention Support Center.  Outside of JLA, she also volunteers with other organizations, such as Caring Cupboard LLC and the Y in Central Maryland to support the community.
Sarah has worked as a Regulatory Health Project Manager at the Food and Drug Administration, Center for Tobacco Products for the past six years, specializing in science-based regulation to reduce tobacco-related disease and death in America.  She holds a Master of Public Health in Health Promotion and Behavioral Sciences with a concentration in Health Disparities from the University of Texas Health Science Center, School of Public Health and a Bachelor of Science in Kinesiology with a concentration in Health Promotion and Fitness and a minor in Educational Psychology from the University of Texas at Austin.  Hook 'em Horns!  She also obtained a Master's Certificate in Project Management from The George Washington University.
Outside of volunteering and work, Sarah enjoys cooking new dishes, gardening, golfing, rowing with the Annapolis Rowing Club, and a new home in Annapolis with her husband and two dogs, Scooter and Taz.
Sarah is excited to serve her first year as D&I Officer.  She believes advancing diversity and inclusion is essential to JLA and will work to support a positive culture to safeguard equity, inclusion, dignity, and respect for all.