5K RESULTS ARE IN! FUN RUN IS A SUCCESS!
Contributed by Kayla Gaydosh, "Avid Runner"
The results are in! The Ninth Annual Jennifer Summers Barrett Memorial Volunteers on the Run 5K event was a success! It was a gorgeous October morning for the event hosted by Junior League of Annapolis, Inc. (JLA) at the Anne Arundel Community College. The course had been perfectly mapped out by the JLA Fun Run committee with the help of equipment from the Annapolis Striders and water stations provided by Charm City Run of Annapolis.  Volunteers were working diligently on this crisp morning for last minute registrations and also to guide and cheer on runners throughout the course.
Runners donned their bibs provided by RoadID and prepped for the race during the Kids Warm-up led by Jim Cleveland of Premier Fitness. The awesome tween band Fast As Lightning sang throughout the day to pump up the runners and then celebrate at the finish. A moment of silence was held in honor of the late JLA member Jennifer Summers Barrett followed by the singing of the national anthem by students of the Key School. The race was off to a great start, remained competitive but fun for all levels of runners and walkers, and had over 135 participants finish!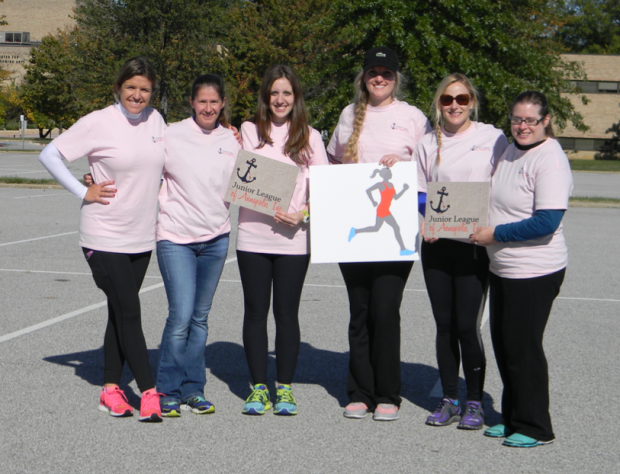 The JLA would like to thank our special sponsors who made the extra commitment for this event to be State Circle and Neighborhood Leaders sponsors:
State Circle:
C&S Wholesale Grocers
Environmental Auto Body/Severna Park Auto Body
Labbe Family Orthodontics
Liff and Walsh/ Eagle Title
Queenstown Veterinary Hospital
South River Dental Care
The Summers Family
Neighborhood Leaders:
Athleta of Annapolis
Crockett Facilities
First Mariner Mortgage
Matt Wyble Team of Champion Realty, Inc.
Ruth Chris Steakhouse
The Hogan Companies
JLA would also like to thank the following sponsors who held fundraisers prior and on the day of the event for their contribution: Mother's Peninsula Grille and Ledo's Pizza of Severna Park, and Neo's Pizza and Menchie's Frozen Yogurt of the Annapolis Towne Centre.
Last but not least, we'd like to recognize and give a shout out to the JLA women of the Fun Run Committee and volunteers for all their hard work and a job well done!
Check out the race results and photos at VOR 5K Race Results & Photos! We hope to see you next year!