JLA New Member Open House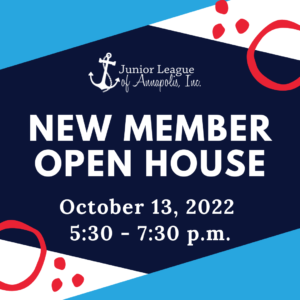 The Junior League of Annapolis, Inc. (JLA) is currently accepting New Members for our next Provisional Class!
Our first recruitment event is a drop-in open house at the Trophy Room at the Graduate Annapolis (126 West Street) on Thursday, October 13 from 5:30 to 7:30 p.m. Please join us when you are able; we'll provide appetizers and validate your parking!
The Junior League of Annapolis, Inc. is an organization of women committed to advancing women's leadership for meaningful community impact through volunteer action, collaboration, and training. Its purpose is exclusively educational and charitable. It reaches out to all women of any race, religion, or national origin who demonstrate an interest in and a commitment to voluntarism. Junior League of Annapolis, Inc. is part of the Association of Junior Leagues International, Inc.
During the Provisional year, a robust program of training courses is offered that allows women to learn more about their community and experience the various League-sponsored avenues for volunteerism and development of leadership skills.
JLA invites interested members to join us in our commitment to improving our community by becoming a trained volunteer whose impact can improve the lives of women and children in our area.
Visit www.jlannapolis.org/about/join for more information.
If you're looking to meet new people, make a positive impact on the community, and grow your leadership skills, then JLA is for you! To register, please contact recruitment@jlannapolis.org.