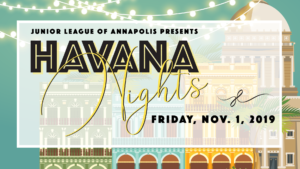 Junior League of Annapolis 2019 Havana Nights Gala
Friday, November 1,  2019
6 :00- 10:00 PM
at Prism
49 Spa Road, Annapolis, MD 21401
---
Tickets

Escape to our little slice of the Caribbean for a night of music, dancing and philanthropy.  
One Day Flash Sale – 28 August –  Regular Tickets are $90 and VIP tickets are $115 for 24 hours
Members and Non-Members Ticket – $100 – Access to the event, heavy hors d'oeuvres, open bar, live music, dancing and more!
VIP Ticket – $125 – Special access to the Havana Club comes with a private bar, tables with seating, Swag Bags, a Special Door Prize raffle and Last Bid Privileges for the silent auction.
Ticket prices go up after Oct. 25, Regular – $110 and VIP – $135.
No tickets will be sold after midnight on Oct. 31st.



---
Attire
Cocktail, Black-Tie Optional
Wear your "Cuban inspired" best for the chance to win a prize!
---
Event Highlights
Open to the public, all proceeds from the Havana Nights Gala benefit the community programs of JLA and the organization's training of its civic leaders, serving to improve the lives of women and children in Anne Arundel County.
---
The New Member Open House offers prospective members the opportunity to learn about the mission and activities of the Junior League of Annapolis, Inc (JLA), as well as the chance to speak with current members about their volunteer and social experiences within the organization.
All women over the age of 21 years, living in Anne Arundel County and its vicinity, are invited to apply for membership to the organization's Fall 2019 provisional training class.
For information on becoming a member of JLA, please contact our Provisional Committee Chairs at provisional@jlannapolis.org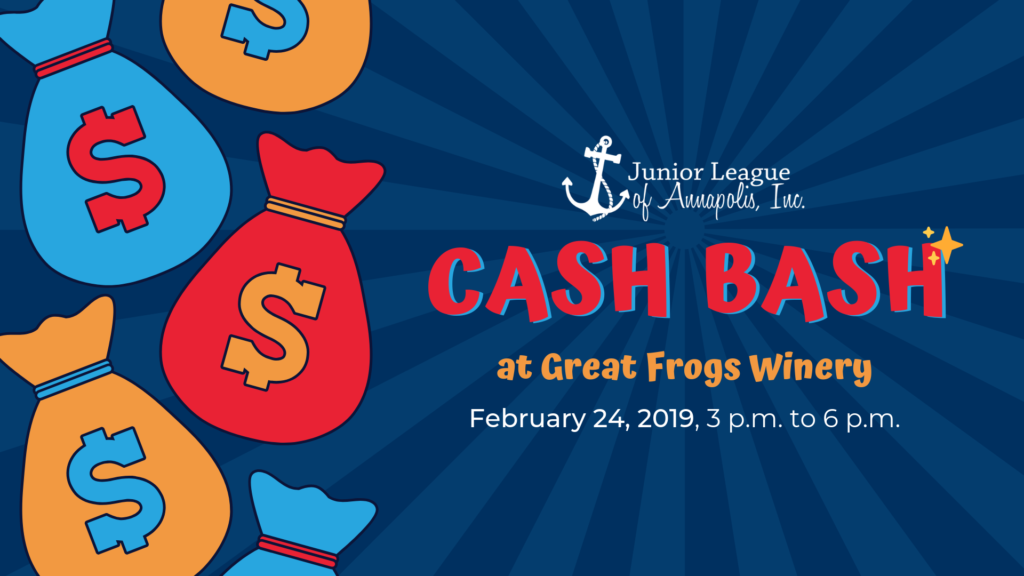 JLA is partnering with Great Frogs Winery in hosting our fourth annual Cash Bash!
Sunday February 24, 2019
Great Frogs Winery located at 3218 Harness Creek Road in Annapolis, Maryland
Time: 3:00pm – 6:00pm
Open to the public, two-thirds of the proceeds from Cash Bash will benefit the community programs of Junior League of Annapolis. This includes our work with the Anne Arundel County Partnership for Children, Youth and Families to establish a Community of Hope in Brooklyn Park, and our Coaching for Life partnership with Serenity Sistas, which supports women in recovery from alcohol or substance abuse, providing them with a chance to re-enter life.
Tickets:
There will be two ticket options available for purchase – one is an "entry" ticket for $25 per person and the other is a "lottery" ticket.
Entry Ticket – There are 75 entry tickets for sale at $25 per person and is required to attend the event.  It is your way into the venue and a wine tasting.  Entry tickets do not count towards financial points.
Lottery ticket  – There are 200 lottery tickets for sale at $30.  Attendees are welcome to purchase as many of these tickets to increase their odds of winning the Cash Bash purse money.  Any remaining tickets will be sold at the door for $35 each.
Online ticket sales will end February 23, 2019 at 11:59pm.
We are also offering add-on advance purchases for discounted wine (no limit and sales end February 22, 2019, at 11:59 p.m.):
Chardonnay $25
Tanyard $25
Cold Blooded $35
Raffle tickets for sale at the event for a chance to win some awesome prizes, including jewelry, fitness class passes, and 2 tickets to the Annapolis Oyster Roast and Sock Burning event in March!
BrickNFire Pizza will be running a special on their pizzas, and there will also be live music! Don't miss out on this event and help Junior League of Annapolis raise money to sustain our mission.
For more information about this event, please contact gala@jlannapolis.org. You may also contact Junior League of Annapolis, Inc. at 410-224-8984 or visit www.jlannapolis.org.
2018 Casino Royale Gala Sponsors
JLA is proud to honor the following organizations for their commitment and dedication to promoting voluntarism, developing the potential of women, and improving the local community that we serve:
$2500+  Sponsor

In Kind Donor
JLA TO HOST 2018 FUNDRAISING CASINO ROYALE GALA
(ANNAPOLIS, MD) Junior League of Annapolis, Inc. (JLA) invites members, community partners, and residents to our 2018 Casino Royale Gala on Friday, October 26th, from 7 to 11 p.m. at the Annapolis Maritime Museum.
Get ready to enjoy a fantastic evening of dancing, live entertainment, silent and live auctions, and hors d'oeuvre plates from local restaurants.  All proceeds will help sustain our community programs and advance our mission in training its civic leaders.  
JLA continues to aid in keeping our organization accessible and enriching the lives of women and children in Anne Arundel County through our partnerships with Serenity Sistas' Coaching for Life program, Community of Hope in the Brooklyn Park, and Done In A Day special one-time projects that meet a specific community need in Anne Arundel County that sync with JLA's mission and community programs.
Tickets to this black-tie optional event are $100 a person including $200 in poker chip money, and $125 for limited VIP tickets including $500 in poker chip money, reserved parking, a reserved table, champagne, wine glass and a special cocktail.  The final package is $175 for couples' tickets which includes $200 in poker chip money for each person.  Tickets are on sale now and prices increase on October 12th.  All attendees must be over 21 years of age.

This annual event is our largest fundraiser of the year, and we are currently seeking sponsors.  To partner as a sponsor or donate to our largest event of the year, please contact gala@jlannapolis.org. Sponsor levels range from $250 – $7,500+.
For more information, please visit our website at jlannapolis.org/casino-royale-gala/ or contact Junior League of Annapolis, Inc. at 410.224.8984 with questions.
ABOUT JUNIOR LEAGUE OF ANNAPOLIS, Inc.
Junior League of Annapolis, Inc. is an organization of women committed to promoting voluntarism, developing the potential of women, and improving the community through the effective action and leadership of trained volunteers. Our membership of over three hundred women strives to narrow the achievement gap in Anne Arundel County, MD with a specific focus on the self-sufficiency of women and children.
###
Also now featured on the Eye on Annapolis blog!