Apply to Attend AJLI's First Organizational Development Institute
AJLI's First Organizational Development Institute (ODI)
AJLI's first Organizational Development Institute (ODI)  is taking place November 3 – 5, 2023 in Washington, DC. This three-day training event welcomes new leaders and general members alike for a combination of mainstage presentations and workshops on the information YOU need to succeed. Topics presented will include:  
Crucial Conversations 
Marketing 
DEIB 
Recruitment 
Public Speaking 
Advocacy 
Member Engagement 
And more! 
Directors and chairs will receive first consideration. Any member who would like to apply, we ask that they commit to attending all three days. Registration will be covered by JLA. Selected members will receive 100 points for their attendance. JLA does not reimburse for hotel stays when the venue is less than 50 miles away from our office. We will reimburse for parking.
Interested JLA Member applicants should fill out the interest questionnaire by 6pm Tuesday, September  26th, Click Here. Please contact Jacqueline C. Guire at nominating@jlannapolis.org with any questions. The JLA Board of Directors will select and notify the selected delegates by or on September 28th, 2023.
The Gathering: A benefit for Maui
The Junior League of Annapolis, Inc. (JLA) is holding a fundraiser benefiting the families impacted by the fires on Maui during Dinner Under the Stars on West Street in downtown Annapolis, on September 9th, 2023, 6pm – 9pm. JLA will be selling leis for $10 each and all money raised will be donated to the Hawaii Community Foundation designated for Maui families impacted by the fires.
"Sometimes tragedies are so overwhelming and we are at a loss to help," said Michele Myers, 2023-2024 President of JLA. "But fortunately, our league is able to respond, and will bring people together to support families who have lost everything."
A local restaurant is also joining the cause. Luna Blu Ristorante Italiano on West Street is offering 10% of their dinner sales from the evening to benefit the fundraising efforts for Maui.
Maui's recovery efforts will be long, with more than 2,000 structures being destroyed, and in Lahaina, approximately 85% of which are residential properties. Nearly 2,200 people are displaced after their homes have been destroyed or damaged.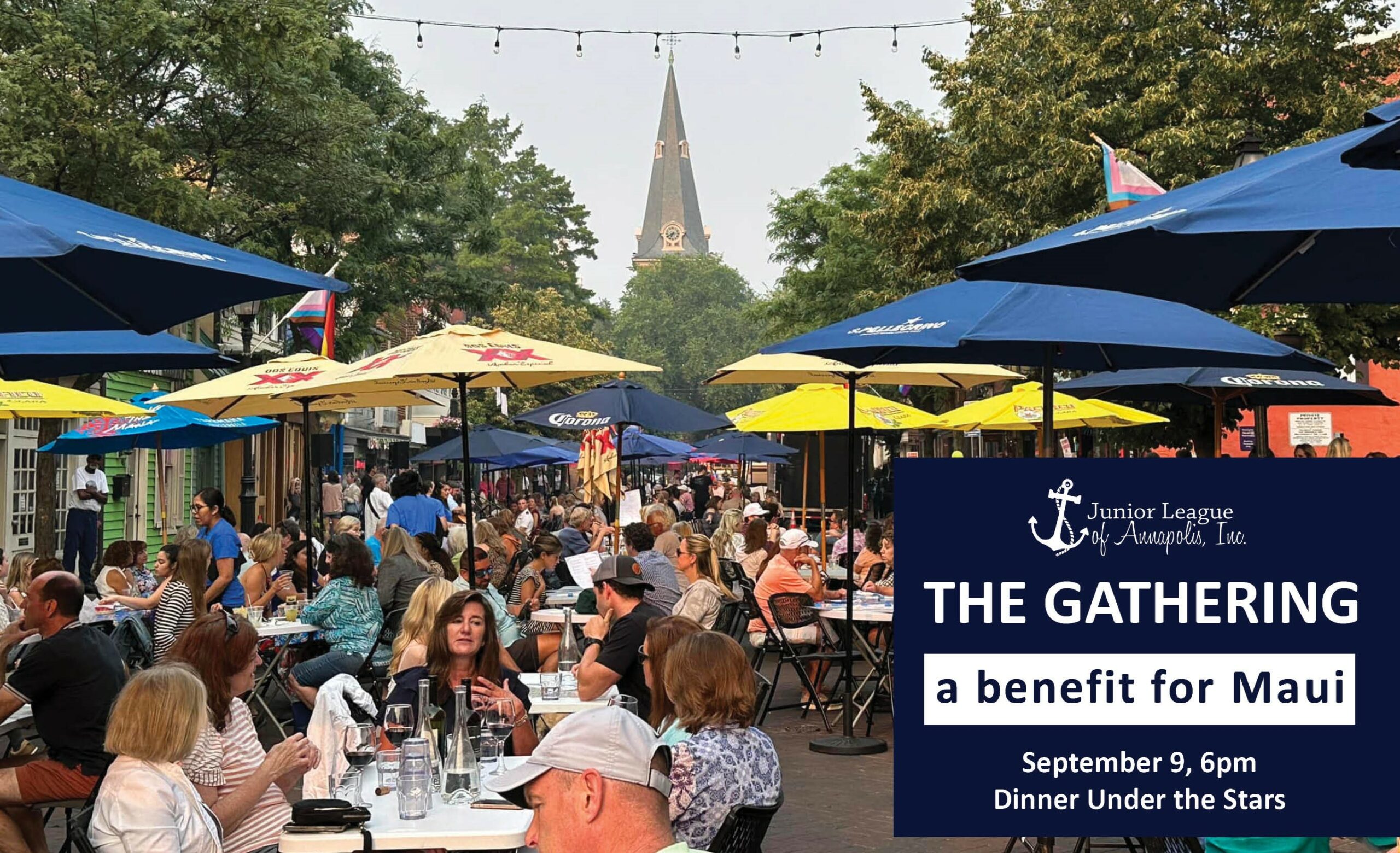 "Our hearts go out to the families who have lost loved ones during this time," said Myers, thinking of the 115 people who lost their lives in the fires. "The loss is devastating and we hope that other Leagues throughout the country and community organizations join with us to help those affected."
The Junior League of Annapolis, Inc. was founded in 1981 and since then has been committed to promoting voluntarism, developing the potential of women, and improving the community through the effective action and leadership of trained volunteers. Over 300 members strong, JLA works with Anne Arundel County organizations to assist with projects aimed at increasing the self-sufficiency of women and children. Each year, the membership donates over 20,000 service hours of support.
###
About the Junior League of Annapolis: 
The Junior League of Annapolis, Inc. is an organization of women committed to promoting voluntarism,developing the potential of women, and improving the community through the effective action and leadership of trained volunteers. It reaches out to all women of any race, religion, or national origin who demonstrate an interest in and a commitment to voluntarism. https://www.jlannapolis.org
General Membership Meeting: October 2023
Junior League Members, we look forward to seeing you at our upcoming in-person General Membership Meeting (GMM) on October 24, 7pm at the Wiley H. Bates Legacy Center. Don't forget to register on Digital Cheetah.
Meeting Dedication:
Over the summer, Annapolis lost a fantastic woman. The Junior League of Annapolis lost a Past President. Sue Neely was an outstanding volunteer who worked tirelessly to improve the lives of women and children in the community. Throughout the year that she was President, her Board of Director Meeting Minutes repeatedly indicated her dedication to seeing members of JLA out in the community. We will dedicate our October meeting to her commitment to the community by holding a Done-In-A-Meeting as we pack period packages for the Community Pantry at Discoveries: The Library at the Mall.
Read more about Sue Neely and her leadership as president during the 1988-1989 League Year.
General Membership Meeting: September 2023
Mark your calendars for the first General Member Meeting (GMM) of the 2023-2024 season! Join us for champagne and cake and come and learn about what the YWCA does in the community. Don't forget to register on Digital Cheetah.
September 26th, 7pm at the Wiley H. Bates Legacy Center.
What's happening this summer with Junior League of Annapolis?
The new League year starts each June and it's a time of transition. New board members and committee chairs are learning the ins and outs of their new roles. Often scheduling several meetings with their predecessors to develop a firm understanding of what lies ahead in the new League year.
Then the fun starts! Starting in late July or August, the Chairs bring together their committees to plan out the year with their team.
How to find your committee placement:
If you don't know which committee you are on, it's easy to find! Please log on to Digital Cheetah to find your Committee Placement (on the homepage!).
This year, the committee structure has changed slightly, and you will see new names for our committees. But, we will still be doing the same amazing work for our community! Meet your committee chairs below: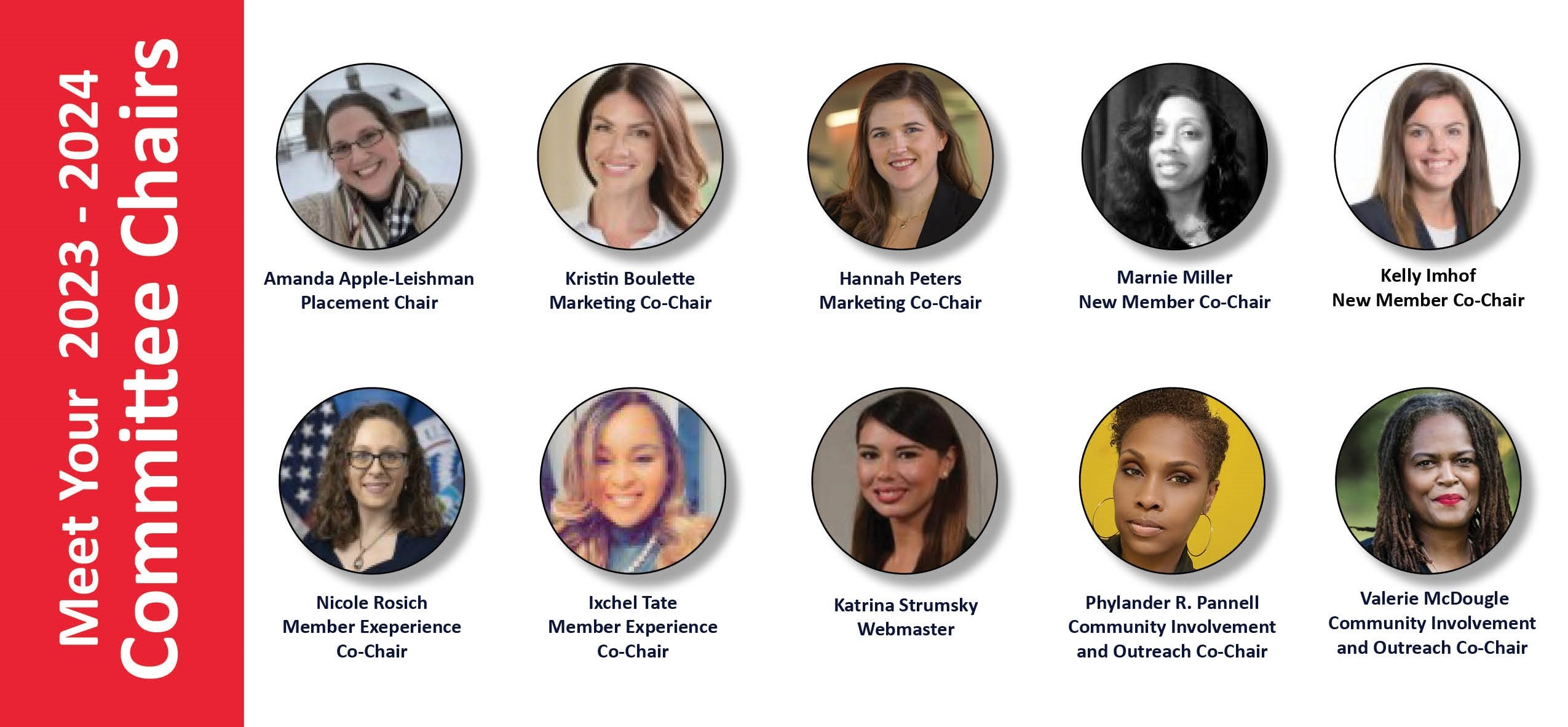 Placement Committee:
Amanda Apple-Leishman – Chair
placement@jlannapolis.org
The Placement Committee works as advocates and advisors for the membership. Each committee member is assigned a group of members whom they will advise. Advisors guide members through issues with commitments, membership status, league satisfaction, etc. The advisors conduct placement interviews for all new members and active members and oversee the placement process for committee chairs and members. The committee shall organize the variety of skills and interests of our members through fair and equitable placement.
Marketing Committee:
Kristin Boulette and Hannah Peters
publicrelations@jlannapolis.org
The Marketing Committee brands the Junior League of Annapolis as a viable and visible organization to the external public while raising awareness of the league's role in the community. The Committee is a dynamic group of women who carry out different roles.
New Member Committee:
Kelly Imhof and Marnie Miller
newmember@jlannapolis.org
This committee has the wonderful opportunity to prepare women to become productive and essential members of JLA. The members of this committee are responsible for recruiting, educating, and preparing the new members throughout their new member year. The planning starts early and continues all year long culminating in the class being voted in as active members at the last General Membership meeting of the year. Once the women join the new member class, committee members become advisors for a small group of new members, helping them learn about the league and build friendships.
Member Experience Committee:
Nicole Rosich and Ixchel Tate
memberexperience@jlannapolis.org
The Member Experience committee is a committee dedicated to engaging and retaining members by providing members with events across a wide spectrum of experiences including valuable training, meaningful social event opportunities, and General Membership Meeting (GMMs) which keeps the members up-to-date on JLA information. The Member Experience Committee is also responsible for hosting the GMMs to include finding and securing speakers in collaboration with the President. This committee strives to bring together members to build camaraderie, keep members engaged and to build g lasting relationships in the League and within the members.
Webmaster:
Katrina Strumsky
webmaster@jlannapolis.org
The Webmaster is the primary administrator for the JLA website, serving on the Communications Council and reports to the Communications Director. The primary responsibility is to maintain the public and the members-only sides of the website hosted by Digital Cheetah Solutions, Inc. The web manager ensures the public website material is accurate and up-to-date, and that the member side of the website is functioning properly. Additionally, the web manager compiles and sends the bi-weekly email blast to all JLA members.
Community Involvement and Outreach Committee:
Valerie McDougle and Phylander Pannell
cio@jlannapolis.org
Community Involvement and Outreach Committee (CIO) is responsible for planning and implementing service projects that support the JLA mission and community impact strategy. The committee shall ensure events are with diverse organizations that represent the community served by the JLA. The committee also works with other committees, including but not limited to the new member committee for their new member service project and the marketing committee for promoting events, to provide meaningful service opportunities to our members.
Fund Development Committee:
Chair Needed! Please consider filling this role.
funddevelopment@jlannapolis.org
The Fund Development committee is responsible for implementing our strategic fundraising and development plan to ensure the long-term financial strength of the JLA. Fundraising through a mixture of events, peer-to-peer campaigns, cookbook sales, grants, and annual campaign initiatives. The committee will have the flexibility to execute large or small-scale fundraising events for which fees are collected and tickets are sold. Fundraising events could also be part of an online (virtual) such as Little Black Dress, Giving Tuesday, or online fundraisers.
Posted: July 27, 2023