The Junior League of Annapolis (JLA) is currently accepting New Members for our next Provisional Class! The next Virtual Recruitment Event occurs Tuesday, October 12, 2021 at 07:00 PM!
The Junior League of Annapolis, Inc. is an organization of women committed to promoting voluntarism, developing the potential of women, and improving the community through the effective action and leadership of trained volunteers. Its purpose is exclusively educational and charitable. It reaches out to all women of any race, religion, or national origin who demonstrate an interest in and a commitment to voluntarism. Junior League of Annapolis, Inc. is part of the Association of Junior Leagues International, Inc.
During the Provisional year, a robust program of training courses is offered that allows women to learn more about their community and experience the various League-sponsored avenues for volunteerism and develop leadership skills.
JLA invites interested members to join us in our commitment to improving our community by becoming a trained volunteer whose impact can improve the lives of women and children in our area.
Visit www.jlannapolis.org/about/join for more information.
In the midst of the COVID-19 pandemic, we know how important it is to stay connected – now, more than ever before. We are committed to the safety of our members, while still offering as many opportunities as possible from afar until it is safe to meet in-person again.
If you're looking to meet new people, make a positive impact on the community, and grow your leadership skills, then JLA is for you! To register please contact recruitment@jlannapolis.org.
Financial Obligations – Letter to Membership
Dear JLA Members,
As we reach the end of another memorable year, the Board of Directors acknowledges that the last year has upended nearly every facet of our lives. We would like to commend our members for their tenacity and dedication to fulfilling JLA's mission to improve the community through the effective action and leadership of trained volunteers. Each of our committees creatively adapted their plans to provide opportunities for members to give back, learn, and connect in the virtual environment.
We know that while everyone is weathering some facet of the same storm, we are all impacted in varying capacities.  As we are nearing the end of the league year, if you are facing a hardship that prevents you from meeting your financial obligations (dues payments and/or financial point requirements), please contact our treasurer at treasurer@jlannapolis.org. Arrangements can be made to support you during this time and all conversations will be held in the strictest of confidence. Please know we are here for you and want every member with the desire to continue their membership to have the opportunity to do so.
To allow for members to make arrangements, the dues deadline will be extended to Sunday, May 16, 2021.
Driven by the voice of our membership, as collected through the Covid-19 response survey, and stated in the September 2020 JLA Pandemic Response (emailed to members 9/24/20), JLA's fundraising efforts for FY21 would focus primarily on building support for the Annual Campaign. To incentivize this no-overhead fundraiser, the Finance Council has proposed a change to increase the dollar per point return on gifts to the annual campaign from 1 point per $1 donated to 1.25 points per $1 donated. For example, a $100 donation would receive 125 financial points.  If the membership approves this change, it will be retroactive for all gifts made since June 1, 2020.
Thank you for everything you do to help JLA, but more importantly – each other, as we navigate these unprecedented times.
Sincerely,
Calandra Layne
JLA President 2020-2021
Cooking Class with Bread & Butter Kitchen
Junior Leauge of Annapolis, Inc. is excited to invite you to a virtual Cooking Class presented by Monica with Bread & Butter Kitchen.
Learn how to make Bahn Mi Sandwiches & Frozen Peach Coladas! 
The cost is $35.00 per ticket.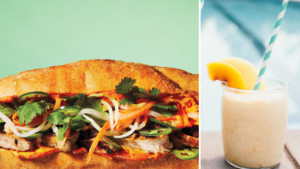 Wine Tasting & Education Social
Junior Leauge of Annapolis, Inc. is excited to invite you to the WineShopAtHome Virtual Tasting and Social. BYOW or you can purchase some amazing handcrafted artisanal wines, (not available in retail stores) that can be purchased through the evening's presenter, Alicia Scott.  If you choose to purchase wine through Alicia Scott, the bottle(s) will ship directly to you, be sure to order ASAP to ensure they arrive in time for the tasting. The cost is $20.00 to attend the event.
Feminine Hygiene Product Drive
The Spring 2021 JLA Provisional Class is hosting a feminine hygiene product drive, from March 1st-17th to support the Tyler Heights Community Resource Fair and Pop Up Pantry. All donations will be distributed on Saturday, March 20th and through your support we will be able to provide essential feminine products to women throughout the community.
How to get involved:
Donations are being accepted in person until Wednesday, March 17th at the JLA office (Covid-19 protocols must be followed at all times), located at 128 Lubrano Dr L-101, Annapolis, MD 21401 or visit our Amazon wish list** by clicking the following link: https://bit.ly/jlahygienedrive
**The deadline for the delivery of Amazon wish-list products is Saturday, March 13th, 2021.