Taste of Italy Fundraiser Gala – February 28

Join us for A Taste of Italy, an event raising funds to support the many programs the Junior League of Annapolis champions throughout our community on Tuesday, February 28th, 2023 at 6:00pm – 8:00pm at Maggiano's in Annapolis. The event will include a silent auction, door prizes, and wine pull. Only 100 tickets are available so get your tickets today before they sell out! Your ticket includes hot heavy hors d'oeuvres, beer, and wine.
JLA Galentine's Brunch – February 12
Get Your Tickets Now for JLA February Brunch
Grab a friend and join us for a Galentine's Day Brunch at the Graduate Hotel, Annapolis on February 12th from 10AM-1PM!
We've lined up an amazing guest speaker, "Connection-Building Expert" Samantha Straub, who will guide us through an interactive session: "Building Deep Friendships, Community, and Connection in the Post-Pandemic Era"
Bonus: This event is open to all JLA Members, Sustainers, and Guests
Location: The Graduate Hotel – 126 West Street, Annapolis, MD 21401
Time: 10am-1pm
Ticket price: $50 JLA Members, Sustainers & Guests
Ticket sales are extended thru February 4th! Please use the following link to Register:
*Parking will be available at the Graduate Hotel Parking Garage for a fee
JLA NEW MEMBER COFFEE OPEN HOUSE – December 3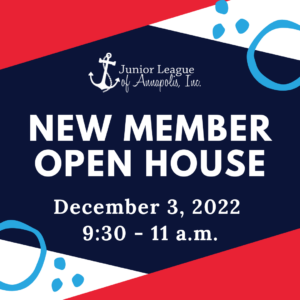 The Junior League of Annapolis, Inc. (JLA) is currently accepting New Members for our next Provisional Class!
Our next recruitment event is an open house at the Junior League office (128 Lubrano Drive, Suite L-101) on Saturday, December 3 from 9:30 to 11 a.m. Please join us when you are able; we'll provide coffee and pastries!
The Junior League of Annapolis, Inc. is an organization of women committed to advancing women's leadership for meaningful community impact through volunteer action, collaboration, and training. Its purpose is exclusively educational and charitable. It reaches out to all women of any race, religion, or national origin who demonstrate an interest in and a commitment to voluntarism. Junior League of Annapolis, Inc. is part of the Association of Junior Leagues International, Inc.
During the Provisional year, a robust program of training courses is offered that allows women to learn more about their community and experience the various League-sponsored avenues for volunteerism and development of leadership skills.
JLA invites interested members to join us in our commitment to improving our community by becoming a trained volunteer whose impact can improve the lives of women and children in our area.
Please click here for more information.
If you're looking to meet new people, make a positive impact on the community, and grow your leadership skills, then JLA is for you! To register, please contact recruitment@jlannapolis.org.
Due to numerous holiday season schedule conflicts, the Gala committee is going to postpone the Sip & Shop event until after the New Year. We're hoping to reschedule in 2023!
Come sip wine varieties from Cooper's Hawk and snack on charcuterie while supporting local vendors selling their products. Join us for an amazing evening of cheer, shopping, and networking.
Ticket price: $25, including wine and charcuterie
Charcuterie Board and Hosting an Event Training
Learn how to make a beautiful Charcuterie Board from our President Elect Michele Myers and how to host an event in your home by the Education & Training and Social Events Committees. Please bring $10 cash to cover the charcuterie board and beverages that will be offered during the event. This is an opportunity to eat and drink, mingle and socialize while learning how to make a charcuterie board for all of your personal entertaining.
This event is open to New Members/Provisional Members! The event will take place at our Junior League office located at 128 Lubrano Drive, Suite L-101, Annapolis MD 21401 from 7:00-8:30pm on Friday, December 9th.