ALIGN EVENT: brainSHIFT for Women Leaders: Brain Science of Beating Burnout
The Junior League of Annapolis (JLA) and the Community Foundation of Anne Arundel County (CFAAC) invite the community, especially women leaders, to attend brainSHIFT for Women Leaders: Brain Science of Beating Burnout, a virtual workshop with Dr. Romie Mushtaq, a neurologist, mindfulness teacher, and sought out keynote speaker. brainSHIFT is a workplace wellness movement based on brain science, medical, and scientific research updated from research done on the workforce during the global pandemic.
Due to the global pandemic, boundaries between work, family, and home life are blurred—fueling a women's health crisis. If you have difficulty focusing, anxiety, and disturbed sleep, it could be a Busy Brain. brainSHIFT for Women Leaders is a scientifically based program that will help you optimize your brain function to promote high performance, sanity, and sleep.
Attendees will discover the following: the root cause of a "Busy Brain;" why the "work-life" balance is a myth and how to implement the 3/30 method to balance your brain; how to create a "Conscious Sisterhood" where every person identifying as female has a seat at the table; and how men can be allies using mindfulness-based techniques in the workplace.
This event is open to the public and free to registered participants; and is part of CFAAC's Community Impact Speaker Series and JLA's Annapolis Leadership Initiative for Growth and Networking (ALIGN).
ABOUT THE SPEAKER: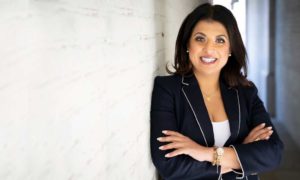 Dr. Romila "Romie" Mushtaq, M.D., ABIHM, is a neurologist, mindfulness teacher, sought out keynote speaker, and never-to-recover chocolate addict. She is the first Chief Wellness Officer for a corporation of 5,000+ employees in the United States (Evolution Hospitality), integrative medicine specialist, and mindfulness expert who has impacted over 1.1 million lives across the world through her keynotes and corporate workshops on mindfulness and brain health.
Romie entered neurology at a time when less than 5 percent of neurologists were women. After reaching the pinnacle of "success" while working 80 to 100-hour weeks and achieving her career milestones, she developed a rare, nearly-lethal health disorder. This experience sparked a shift towards mindfulness, meditation, and integrative medicine and led to her current path of shifting the minds of Fortune 500 leaders, organizations, and corporations through science-based meditation talks and workshops.
With nearly 20 years of expertise and her signature style, energy, and sass,
Romie delivers dynamic corporate wellness keynotes and workshops, corporate leadership lectures, and business wellness consulting. She is an in-demand speaker with a popular TedX talk on "The Powerful Secret of Your Breath" and she is featured in NBC, Fox Business, Inc, CBS, Huffington Post, NPR, and dozens of other national media outlets. Romie has worked with Grammy-award-winning musicians, top NBA/NFL/PGA athletes, and Fortune 500 company executives.